Contax Zeiss + Canon 5D Mk III
Hi everyone, this is my very first blog post! Looking forward to sharing some updates on my work, as well as other art-related topics.
Thought I'd start with something hardware-focused and run you through a small project that I was looking at over the past month. Sometimes it was quite difficult to find information on the Internet on this, so it could also help people who are thinking about something similar!

Anyhow, I recently got these vintage Contax Zeiss T* objectives (MM type):
Vario-Sonnar F 3,3-4,0 / 28-55 mm

Sonnar F 2,8 / 135 mm

Planar F 1,4 / 50 mm

Planar F 1,4 / 85 mm
They're beautiful pieces of equipment, still known for their quality. Originally they belonged to my grandpa, who used them with his Contax Aria. The current goal was to mount them onto a Canon EOS 5D Mk III, for which one needs an adapter. Having looked through a number of different options, I settled with Leitax mounts - unlike other models, they are screwed directly onto the objective and offer a permanent (but still reversible) solution. Note: if you're doing this yourself, it's important to check that you've got the right mount for the objective you have in mind! The other thing you might want to note is that the factory-fitted screws can be very tightly cemented - I visited a local repairs centre for some help with this.
Here you can see the lenses mounted onto the camera: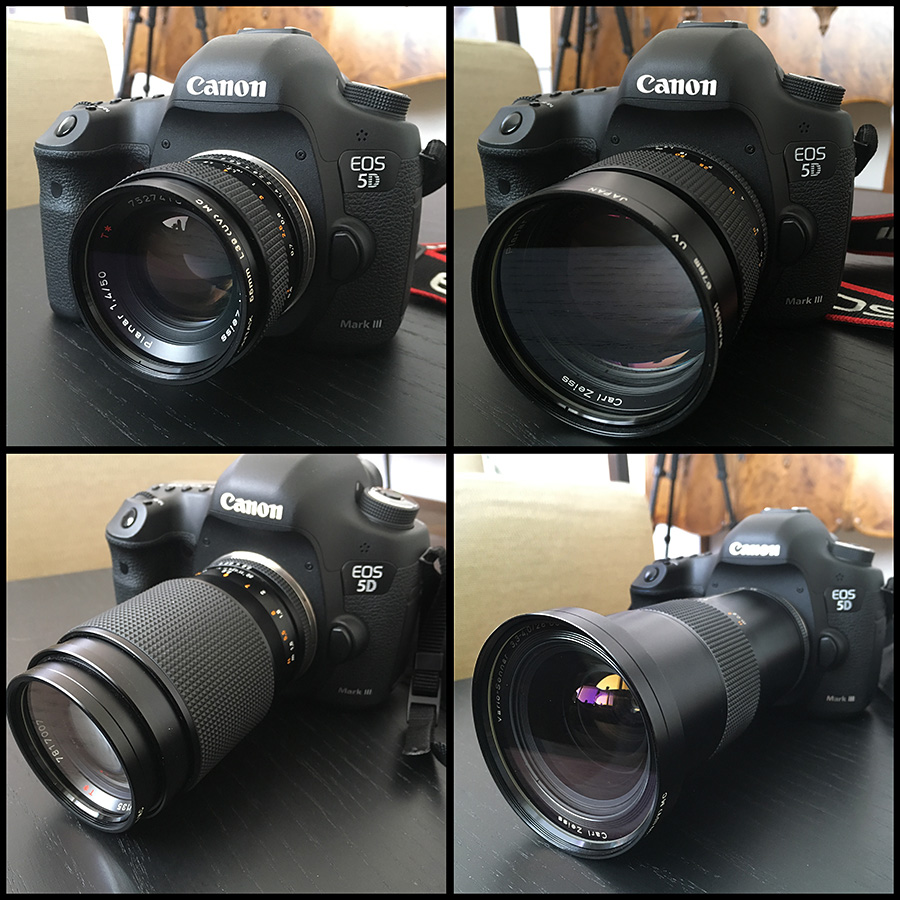 With DSLR cameras such as the 5D, there can sometimes be mirror collision problems when using an adapted objective. There is a very useful database with information on Contax-Canon conversions here. According to this website, the 50-mm objective in particular can sometimes be prone to collision issues (it's listed under "iffy"):
"Contax 50mm F1.4 Planar 
The following applies to the Canon 5D and 5D Mark II  
Generally the 50mm F1.4 Planar will work on a Canon 5D without issue, but as always, there are exceptions. If this lens does not clear the mirror, I would suspect someone mucked the focus ring and tweaked infinity focus to their preferred taste."
This is where I was a little concerned! However, the 5D Mk III + Leitax combination worked perfectly for all four objectives. Although one obviously loses any auto-focusing functionality with this type of conversion, all lenses focus to infinity. Aperture adjustments also appear to work very well. Although Leitax mounts are priced higher than some other models (which are twisted on without a need to remove any screws), they're very solid and precisely made.
I imagine I will be using these "new" Zeiss objectives heavily in the future. I hope this short update was of some interest and that it might also find someone who would like to adapt lenses of their own.